Game: Synthwave Racers Free Download

Race at hypersonic speeds. Drift through physics-defying courses. Customize your Rider. Jam out to melodic Synthwave music tracks. Play alone offline, race your friend's ghosts, or duke it out online against other players in Synthwave Racers.
About This Game

BECOME A FEARLESS RIDER
Reach ridiculous top speeds. Drive through winding cyperpunk cities, freezing mountains, and treacherous rings of planets. Crash and Burn, until you Crash and Learn. Become the thrill-seeking speed junkie you've always wanted to be.
DEFY THE LAWS OF PHYSICS
Drift, twist, and turn for your life through physics-defying tracks. Corkscrews? Got 'em. Loop-de-loops? Of course. Gravity Switches? Yessir. A time-stopping powerup? Also yes. And plenty more.
LEAVE YOUR COMPETITION IN THE DUST
Fancy a realtime match? Synthwave Racers has both Race and Battle modes available to play online against both AI bots and other players from around the world. Backed by Unity Multiplay, servers will be spun up as needed to make sure you can race when you want to.
Is realtime not your thing? No problem at all. Race asynchronously against your friends by downloading each other's time trial data. Reach the top of your friends list for the ultimate bragging rights.
CUSTOMIZE YOUR EVERYTHING
Unlock Rider skins, bikes and karts, engines, nitrous particles, and even horns, all through completing challenges and finding hidden unlockables in-game. You can be a chicken, driving a shopping kart, that has electricity coming out of their car, and burps when honking their horn. What else needs to be said?
JAM. TO. THE. BEATS.
Featuring over an hour of melodic, 80's-inspired Synthwave tracks, prepare to be completely immersed in the groovy and futuristic world that Synthwave music artist Xenon Streets has crafted, just for this game.
Feature List: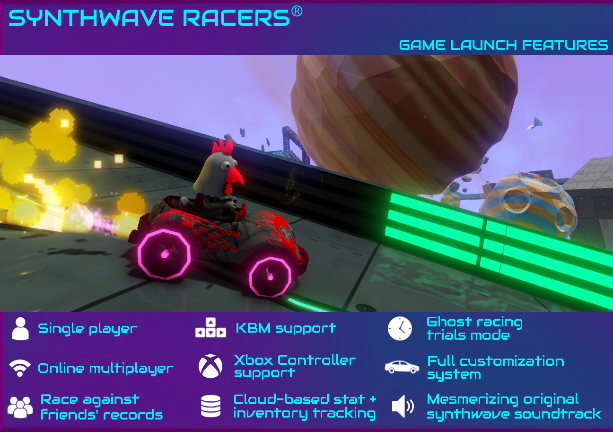 32 custom built, single-player linear campaign levels
Full customization system with intriguing bikes, karts, characters, wheels, colors, and more
8-player online multiplayer with friends or clients around the world, using dedicated servers
AI racers for online multiplayer, auto-filling spots in servers that require them
Custom gravitational-based physics system allowing for ridiculous tracks, including loop-de-loops, gravity switching, and more
Time trials with record keeping system for both fastest lap and full course times
KBM & Xbox Controller support (controller reccomended)
Custom services module records gameplay stats, record stats, and more via the Corrtex AccountⓇ system
Download and race against your friends' ghost data using the Corrtex AccountⓇ system
Over 20 meticulously crafted, retro-synthwave music tracks designed specifically to race at hypersonic speeds to
8 precisely designed multiplayer courses with unique theming, soundtracks, and layouts
In-game loot system where simply completing courses, campaign levels, and leveling up, rewards you with loot tokens to unlock new customization items for free
Steamworks SDK integration for achievements
Planned Post-Release Features:
Local Multiplayer Co-Op
In-game level editor + level sharing/streaming system
Second wave of multiplayer courses and items
Corrtex AccountⓇ system improvements allowing for cross-platform play and global leaderboards
Synthwave Racers Game Free Download
Synthwave Racers Trailer
System Requirements
Minimum:

OS: Windows 7
Processor: SSe2 Instruction Set Support
Memory: 4 GB RAM
Graphics: 1GB Memory
DirectX: Version 9.0
Storage: 3 GB available space
Recommended:

OS: Windows 10
Processor: 8-Core, 3.7GHz
Memory: 8 GB RAM
Graphics: NVIDIA GTX 1070 3GB
DirectX: Version 10
Network: Broadband Internet connection
Storage: 5 GB available space
Download Synthwave Racers Free
Title: Synthwave Racers
Developer:
Publisher:
Release Date: 10 Aug, 2023
Free Download Synthwave Racers Game
Full Game, latest version. Download for Free!