Game: Fear Surrounds Free Download

Fear Surrounds is a horror-tinged take on the werewolf-style social subterfuge genre, where two evil spirits hide within a group of players and attempt to sabotage and murder them.
About This Game
Overview
Fear Surrounds is a horror-themed 3D Werewolf game. Specters hide among a group of good guys who need to root out the specters' true identities asap. The game has dozens of professions and maps, making for a diverse experience that never gets old. Plus there are fun modes like Battle Royale.
How to Play
Players play as either specters or good guys and must determine who the killers are through behavior and speaking in meetings.
Good guys must constantly watch over the actions of those around them. During meetings, they must clearly describe their whereabouts, who they suspect and why. But don't trust the words of others lightly, and don't make rash conclusions based on conjecture. If you're wrong, your team will be at a disadvantage. Clergy have a broader field of view and must use their skills to lead the good team to victory.
Specters need to kill all of the good guys without getting caught. They can communicate with teammates with voice messages, use skills to cover each other, and kill good guys or create alibis among chaos. They need to lie about their whereabouts during meetings, accuse others or even pretend to be Clergy. Their goal is to interfere with the good team's judgment as much as possible.
Player Objectives
Good Faction
1. Complete all quests to achieve victory.
2. Vote out all specters during meetings to achieve victory.
(Analyze the behavior and speech of other players to determine if they are good or bad. If you make the wrong choice, someone innocent may die because of it.)
Specters Faction
1. Pretend to be good. Kill good guys when there are no eyewitnesses.
2. Use destruction skills to create an opportunity to kill.
3. Lie during meetings to influence the votes.
4. Kill all good guys to achieve victory.
Profession Details
Good Faction Professions:
1. Traveler: must continuously complete quests to avoid losing HP and dying. Has no special abilities.
Clergy: travelers with special abilities. Like regular travelers, they also continuously lose HP.
1. Priest: can verify someone's faction, but doesn't know their specific identity.
2. White Spirit: can assassinate one person once per game.
3. Avenger: when sacrificed, will kill the target who voted him/her out.
4. Forensic Doctor: can see all corpses on the map.
5. Idiot: will not be killed the first time they are sacrificed, but can no longer vote or speak in meetings afterwards.
6. Psychic: at each meeting, learns which faction the dead belong to.
Specter Professions: have the ability to assassinate and destroy by default.
1. Nightmare: can blind all players.
2. Magic Eye: can see the location of all players.
3. Ghost King: has an extra assassination ability, but dies after using it.
4. Ghost Priest: can verify the identity of a corpse.
5. Hidden Demon: before awakening, cannot be detected by the Priest or Pope's skills.
6. Silence Specter: can silence 1 player during each round of the game.
7. Betrayer: has the abilities of a regular traveler, and neither specters nor travelers know his identity. Has to help the specters win.
Map Details
There are many maps including hospital, school and prison. Each map offers unique scenario that players must solve in combination with the jobs. Use CTRL to view the map and Tab to display nearby quests. New players can use the training mode to get familiar with the maps.
FAQ
If there is no reaction when you click the "PLAY" button on the steam page, you need open the game installation directory to find the "c++ Repair tool" to repair the "DirectX" environment.
Fear Surrounds Game Free Download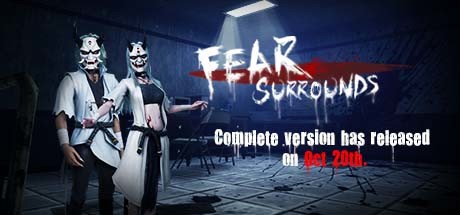 Fear Surrounds Trailer
System Requirements
Minimum:

Requires a 64-bit processor and operating system
OS: Windows 7
Processor: core i5
Memory: 1 GB RAM
Graphics: gtx 960
Storage: 2 GB available space
Recommended:

Requires a 64-bit processor and operating system
OS: Windows 10
Processor: core i7
Memory: 2 GB RAM
Graphics: gtx 1060
Storage: 4 GB available space
Download Fear Surrounds Free
Title: Fear Surrounds
Developer:
Publisher:
Release Date: 19 Oct, 2021
Early Access Release Date: 25 Feb, 2021
Free Download Fear Surrounds Game
Full Game, latest version. Download for Free!