Game: Break The Targets Free Download

Break the Targets (BTT) is a unique time-trial platformer game with simple controls featuring hundreds of levels and an online leaderboard for competitive placing.
About This Game
Break the Targets is a unique time-trial platformer game with simple controls featuring hundreds of levels and an online leaderboard for competitive placing.
CONTENT:
140 Increasingly challenging levels to be completed under 30 seconds
25 SSBM Tribute Stages with online leaderboards
Level Editor – Create and share levels with the Community
Hundreds of Community Levels
2 Characters with unique properties, attacks, and unlockable special attacks
TOP 500 Leaderboard available ingame for each level
Clean, responsive controls as well as beautiful visual elements
Play against yourself, the Author, or against a Leaderboard Ghost
Share a replay with your friends or spectate amazing replays from the community
Gamepad support + configuration
TAS Support with Action Script Editor and Dedicated leaderboards
BONUS GAME MODES
Juggle – Hit the ball trought various stage as fast as possible.
Battle Discord – Play against other players in real time on a unique random level.
Target Buster Mode – How many targets can you destroy in 1 minute?
Running Buster Mode – How far can you go in 2 minutes?
Powershield Mode – Increase your powershielding reflexes!
Canon Mode – Catch the targets before they crash on the ground
Endurance Mode – A long level with increasing difficulty and checkpoints along the way
Survival – Stay Alive as long as possible
Marathon – Speedrun all levels or a segment of the game in one single run
Random Mode – How many micro levels can you complete in 60 seconds?
Tribute Pack Riddle – Collect as many targets as possible without touching the ground
Tribute Pack Mode5 – Timer stop at 5 targets
Advanced BTT School – Complete technical challenges to earn badges
And even more!
Misc
165 hidden Silver Bolts to find
+180 cards to collect
Discord Integration with bot features and dedicated mode
Online shareable profile
Wiki available
Controls
Attacks: Default controls use WASD, so be sure to change adapt it to your keyboard settings.
Press the Rope Button to create a rope while close enough to an attachable object to traverse dangerous terrain.
Use your shield (Airdodge in air) to avoid getting hit by the charge shot and other projectiles!
Additional characters abilities like laser, bomb, phantasm or teleport are also unlockable after reaching the required XP level.
These techniques add a new dimension to the game and provide new ways to complete all levels in a shorter time.
Join the discord to seek for help, find opponents for Discord Battles or to discuss with experienced players about the game.
If you find any bug, please use the bug tracker to be sure I've officially took care of it.
Credits:
Music by Ozzed (Licenced CC-BY 3.0)
Music by Eric Skiff (Licenced CC-BY 3.0)
Trailer Music by NeXsard (Licenced CC-BY 3.0)
Sweden Translation by Charleon
Break The Targets Game Free Download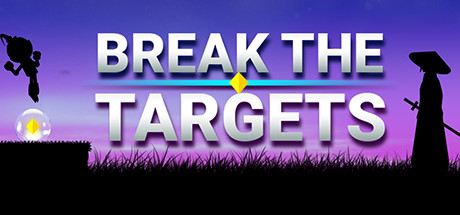 Break The Targets Trailer
System Requirements
Minimum:

OS: Windows 7
Processor: 1.8GHz
Memory: 1 GB RAM
Graphics: Intel HD 4000 series
DirectX: Version 9.0
Download Break The Targets Free
Title: Break The Targets
Genre: Action, Indie, Strategy
Developer:
Publisher:
Release Date: 21 Jun, 2018
Free Download Break The Targets Game
Full Game, latest version. Download for Free!